WHY DID I CREATE THIS?
I own Bermann dolls and these are my favorite dolls to shoot. I collected over the years as much information as I could on these guys and decided to share it for everyone to enjoy.
My doll Christian is a Hu-die-meng Do Bermann by Tensiya. "DO" is part of "Dobermann" as these dolls are named after the guard dogs and refer to their fully opened eyes. Technically, he was my first Bermann I ordered and waited, along with the rest of them over seven months for. The DO Bermann, as you can see, has open eyes.
Trent is an SA Valentino — Le lys rouge Bermann by Tensiya. The SA stands for "Slack Afternoon" I believe, which I suppose refers to the "sleeping" expression on his eyes.
QUICK LINKS TO BERMANN ARTICLES
Where to source Dollshe Craft dolls & Accessories
Dollshe Bermann: Details on a limited Dollshe Craft doll

WHY THE NAME?
Per the Tensiya site:
"The name originated from `Doberman pinscher,' the name of a famous guard dog breed. Hence the title of Bermann is `Do.' The doll originated from the image of Doberman, the dog loves and guards humans. Thus Berman reflect the wish of guarding its owner forever, even though it has a form of a human.
Q) Then why Bermann has one more `n' at the end of it's name?
A) To facilitate searching Dollshe's Bermann at the internet."
A number of people have asked what's the difference between Dollshe Hounds and Bermanns? The best place to see that is here at Tensiya. Basically, the Hound is 2cm taller (because they have longer legs), their feet are .5cm longer, the Hound has squarer collar bones (the Bermann has a far more "slouchy" body type) and they have different hands. Joints are also different.
BERMANN MEASUREMENTS
Shoulder to Wrist 9″
Shoulder to Shoulder 5.5″
Wrist 3"
Neck "
Bust 11″
Waist 9″
Hips 10"
Head 9.25″
Hips to Ankle 17.25"
Ankle 4"
Toe to Heel/Foot "
Belly Button to Inseam 3.5"
Hand width [Left] "
Hand width [Right} 1.75"
Hand length 3"
Base of Neck to End of Shoulder 3.25″
Belly Button to Knee 10.25″
Inseam 14.5″
+From shoulder to ankle: 22″
+Waist to ankle: 17″
HOUND MEASUREMENTS
[These are from LUTS Website]
* Tall : 70cm
* Circumference of Head : 23.5cm (9.2 inch)
* Circumference of neck : 11.2 cm
* Circumference of chest : 16.5cm
* Width of shoulders : 15.8cm
* Length of "from shoulder to wrist" : 22cm
* Length of "from elbow to wrist" : 10.2cm
* Length of back : 16cm
* Circumference of waist : 22cm
* Circumference of hips : 27cm
* Length of "from hips to ankle" : 40.4cm
* Length of "from knee to ankle" : 18cm
BRIEF HISTORY OF BERMANN
PRICES
Originally, Bermann 77 was sold for roughly $500. When Tensiya started selling him, the first few releases were $880 (SA Valentino, Shinsengumi-Kurogatu, Hudiemeng, and Heimdal). Hwarang Yoo-shin was $990 and sold with Chunchoo at $950 (an afghan head on a hound body/afghan boy — shipping was roughly $70). You could also buy each of their outfits separately if you wished. Yooshin's outfit was $200 and Chunchoo's outfit was $250. If you bought Hwarang, you could choose whether you wanted him in Chunchoo's outfit or Yooshin's outfit. Same went for Chunchoo. You could also buy the extra outfit – Ex. You could order Hwarang in Chunchoo's dress and then order Yooshin's outfit separately.
With the release of Manu, Le'tranger and Mr. Fogg, costs changed ($1180 on the first two and $1100 on Fogg). IL Milione had the larges jump in cost to $2000, but it also included three outfits.
WHAT HANDS ARE USED ON THE BERMANNS?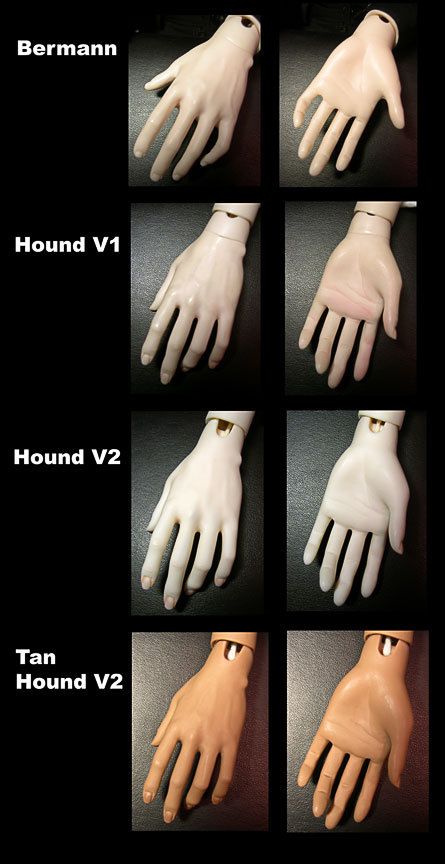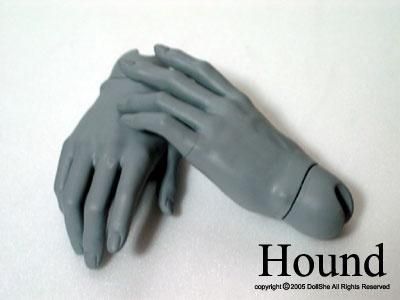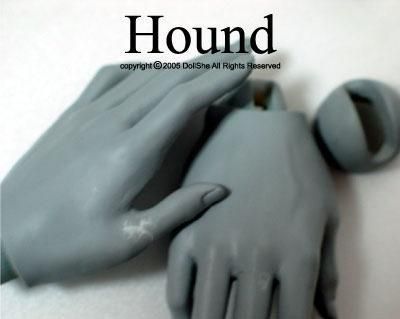 So far (from observing pix) the only Bermann to have Hound hands is the Heimdal and the upcoming 2 tan releases (Manu and L'etranger). HwaRang might come with the version one hands as well as Mr Fogg, but these need to be confirmed.
Bermann "One off" #11 Shinsengumi-Kuragatu "KaGema" for Dollectable
This version of Bermann is known as an SA and was initially part of the Anu's first release originally entitled 'Shinsengumi-kurogatu'. This was the very last one in the group, SA no11, and it is widely known that of the 110 Bermanns only 33 in total are to be produced of the SA face mold (SA stands for 'slack afternoon'). Anu has now renamed this ONE SA Bermann as 'Kagema', and has charmingly recreated his story and background as well as re-clothed him. What creativity!!! And in Anu's own words, here is Kagema's description:
Kagema
it is a kind of job in the age of end of Edo bakuhu age, of Japan, the same age of Shinsengumi. They are…well…a male version of geisha (before meiji age, there are no difference of service business -_-a;;) Usually, Kagema becomes to Oyama who is a female character in Kabuki. Frankly, very simply I wanted to make a Girlish styles.
But…differ to real traditional cloths, he is not wearing a girl's clothes. Girls are wearing "Hurisode" which is opened the back side of sleeve, but in his case, it is closed as like Tamoto style.
Set consisted with Nagajuban(white, silk) Utigi(red, cotton), Utikage(pink, linen), tabi(socks), zzori(shoes), Obi/Obiage/Obizime. Ogiage is shaped as (how can I express it a word -_-;) "congratulation" meanings. Fixed to fabric, for convenient.
What this set will contain: Bermann SA bjd, complete outfit as designed and dressed by Anu consisting of many layered kimono in different fabrics and socks that match one of the layered fabrics, pair of undoubtedly handmade sandals, long black wig with ponytail, certificate of authenticity, cleaning sponges, navy blue Tensiya carrying case. This is as received and conceived by Anu! Complete and unique!
Sold on Ebay for ending bid of $5,900.
This doll was created and shipped by Anu of Tensiya for Dollectable June 1-3, 2007 in San Fransisco. All profit going to the convention.
More information over here: http://www.rakurakutei.com/?p=1223
Thanks to Christy and Kim for help with this FAQ.