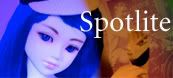 Your name: dollsylph (arrowchild on DOA)
Your Legal Name: Lora Gray
Your Website: www.dollsylph.weebly.com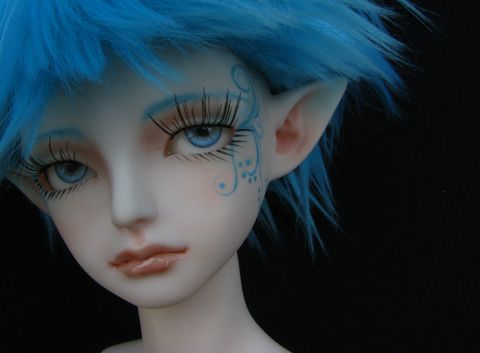 How did you get involved in Super Dollfies and customizing them?
After graduating from college, I began customizing 1/6 dollfies as characters from my favorite anime. It was a fun alternative to buying factory-made figures and since I had training as an artist, some of the painting techniques were already familiar to me.
I loved working on them, and was successfully selling one of a kind dollfies for a while as well, but I was constantly frustrated by the lack of diversity in vinyl. I had seen resin BJD at a few anime conventions, but never really considered them. They were so expensive and so big! Eventually, though, I started researching them I immediately wished I had looked into BJD sooner. The variety, realism and potential for customization was just what I'd been looking for.
As soon as I saved up enough funds, I purchased my first BJD and began offering my face-up services soon after. The rest is history!
What Inspires You?
I've always been fascinated by the human face. I'm constantly inspired by a beautifully sculpted nose or quirky lips or unique bone structure.
What do you want people to think when they look at your Customizations?
I'd like them to see how much care and enjoyment goes into creating them, to see that tiny spark of excitement/magic that a face-up can bring to a doll.
What do you hope to accomplish in the next 5 years?
I have an on-going dream of improving my sewing skills to create the slew of the doll-sized designs I've got swimming around in my head. But I never seem to get around to doing that! So I would be very happy if I could simply keep improving as a face-up artist.
What sorts of things do you enjoy the most about your designs/customizations?
The fact that I still surprise myself with designs and color combinations is always enjoyable for me.
Other than yourself, who are your favorite doll customizers?
There are so many artists I admire…it would be difficult to list them all. I do adore SDink's work in particular, though. She brings such much elegance and sensitivity to her face-ups.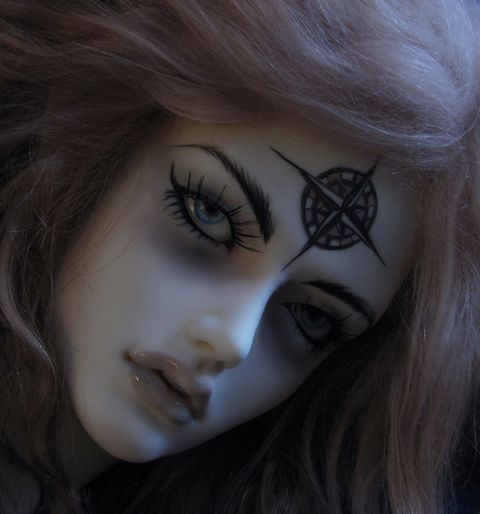 What's the Best thing about customizing your own dolls?
For me, it's the moment when the doll first 'speaks' to me. I almost never have a set plan when I start working on my own BJD; I let the face-up unfold organically as I paint it. There's always an exciting 'ah-ha!' moment when I realize what kind of character the face-up is going to portray.
What's the most difficult thing about doing face ups and altering them?
The patience needed to work in layers. Once I'm on a role, I rarely want to wait for paint or MSC to dry and I tend to get very, very antsy when my momentum is interrupted. I have to remind myself that the results will be worth it.
What type of dolls do you enjoy customizing (male/female/brands)?
I'm naturally drawn to more realistic sculpts, so those are always a treat to work on. One of the nicest things about being a customizer, however, is having the opportunity to paint different types of dolls. I've gotten the chance to work on all sorts of BJD, from hyper realistic minimee heads to stylized tinies. There's a certain enjoyment to be had working on a doll you yourself wouldn't normally purchase.
What is your favorite style to create?
Right now? Fantasy.
Who would you love to collaborate with?I've really come to admire Dollist of Lumedoll's work. Her sculpts are so fresh and unique. I'd love to collaborate with her some day.
Why choose doll customizing as a form of Self Expression?
Doll customization seems to marry together a few of my long standing interests-the human face/figure, character creation and the ever elusive 'Asian aesthetic.' I was never a 'doll person' per se and would never have seen myself as a doll customizer until a few years ago. But it's one of the most natural forms of self expression I've ever come across.
How long does it take from start to finish on a typical doll to create and complete?
Usually one to two weeks.
How do you like to work best with a custom order for a client? With total freedom to create your vision, or do you like some feedback/interchange with a client who might have an idea or theme they would like to see realized?
I have to admit, it's very liberating to be handed free reign over a commission. Producing something unique and unexpected for a client is always a thrill for me! That being said, being privy to someone else's vision and bringing that vision to life, can also be a very rewarding experience. I love being surprised by an idea a client has that I would never have thought up.
What have been your favorite projects you've done thus far?
The Elfdoll 'Post-apocalypse Gaia' that I worked on for SukiYume's booth at the Columbus Doll Show was a ton of fun-oodles of painted scarring, tattoos and very expressive brows.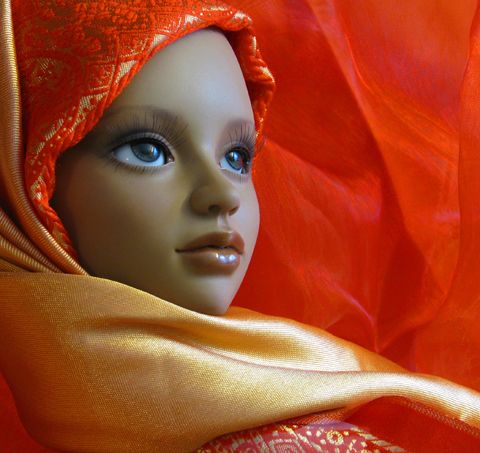 Interview continued in part II….