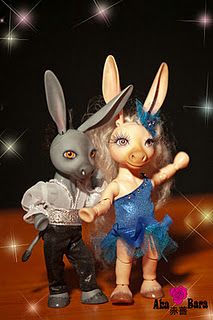 New doll maker AkaBara is taking pre-orders for their doll, Jessie the Donkey. Dates for their 1st pre-order are from January 18 up to February 10.
Information on this doll is over here.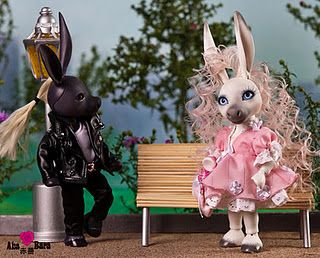 Prices and options:
Basic set – US $160 (+ shipping)
Basic set includes: assembled doll (we offer 4 skin tone types: black/white/grey/peach – you are free to choose any), 14 mm acrylic eyes (random color), mane (we offer 4 hair types: black/pink/blond/mohair blond – you are free to choose any), box with cushions
Options:
Make-up – US $20
for each skin tone type we only offer basic make-up you see in the pictures
Outfit – US $25 for a set
we offer 4 outfit sets – you may choose any
pink loly (including dress and handbag)
biker (including pants, T-shirt and belt; to order biker jacket please add $15)
blue dancer (including dress and hair pin)
boy dancer (including pants, shirt and waistband)
Notes:
– During 1st pre-order period we offer 50 donkey-dolls, each doll will have it's individual number.
– Dolls and outfits colors can be slightly different depending on your monitor settings.
– Dolls colors and outfits details can be slightly different due to entirely manual work.
If you have any questions we'll be happy to answer them. Our e-mail:
We ship worldwide.
We ship via EMS or registered air-mail.
We accept payments via PayPal. Other payment methods are available, ask us )))
To order please e-mail to:
Contact them with any questions.