Are there any sort of projects you've been hoping to work on but just haven't gotten around to it?
There are always sculpts I haven't had a chance to work on yet. Whenever I see a new sculpt come out I just can't wait to get my little fingers on it! But I'd also love to have the opportunity to create the whole look for a doll—faceup, styled wig, and design and create an outfit. Do it all myself. I definitely like to style my own dolls to my specifications, but typically rely on outfits and accessories made by others.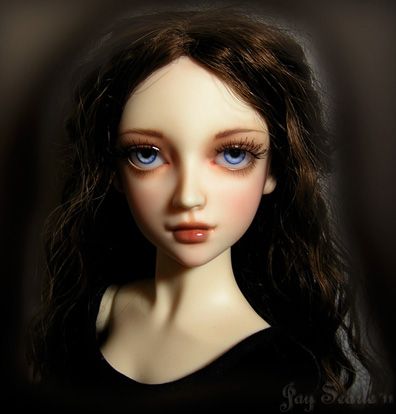 What was the most challenging thing you have ever done thus far?
One particularly challenging project was SOOM Sphaler and all his various animal parts. Endless detail and shading! And his owner gave me complete freedom to do whatever I wanted. That was hard because I wasn't actually sure what Sphaler was supposed to be. So I went totally fantasy and used some opalescence here and there and some very non-human colors.
How has your style evolved over time, and where do you see it going in the future?
I like to think it's improved! I feel the depth and subtle realism has really grown from my early faceups. I'd like to see it continually improve. I studied ballet for a large part of my life and there's always that feeling of never reaching perfection but always striving for it. It's the same way with my art. I'd also love to be able to sculpt a doll someday. I'd also like to create special "art dolls" that I've dressed and wigged and done everything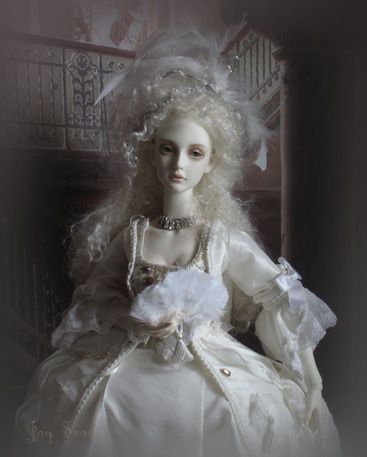 Describe your perfect client. Do you like to get a lot of direction, or just be given a general mood, or do you like to see visual examples?
Well, I have to admit, it's great to have someone say, "Just do what you think will look best." But I certainly am not opposed to someone say they want a more Goth look, or a very pale look, etc. Visual examples are good of either a real person or when they send pictures of other work I've done. I won't copy a very distinctive style that's the trademark of another artist.
Of all the face-ups/customizations you've done, do any stand out to you in particular? Howso?
Any Cass is a particular joy as I just love that sculpt. I love a few of the Johnny Depp heads I did. One was The Mad Hatter, one was Edward Scissohands, and one was Sweenie Todd. Those were really fun projects. Of course, I absolutely love doing the beautiful girls. I also have a Hound of my own who came to me with a heavily painted faceup pretty much the opposite of what I like. It was great to see him become "my" special Hound and do a 360 degree turnaround.
Do you paint/alter other types of dolls, and if so, how does that compare with working on BJDs? If you do other types of art (drawing, painting, etc) does that influence your faceup style?
I've repainted Kish, Genes, early Tonner 22" models, and some Tylers though not to the extent I've done BJDs. I have definitely restyled the hair on many, many dolls. I have drawn all my life. Just love drawing!
Have you ever refused a commission? Why? Or if not, can you think of a circumstance where you might?
I have refused commissions that have requested me to duplicate a very distinctive style of another artist. Also, I once had someone request I do some very geometric facial tattoos and that's really not my thing.
Is there something that is still difficult for you to do? What is the most difficult?
Eyebrows are always challenging. I think I'm hard on myself, too, as nothing ever seems to be quite good enough.
How important is customer feedback to your creative process?
There's nothing more inspiring that positive feedback from my clients. It's all important.
Is there a mold, doll, or company that you prefer to work on?
In general, no. But it's always fun to work on a head that has lots of detail in the sculpting.
Do you prefer working on male or female dolls? Why?
I used to prefer females. But now I love working on them both equally. I think it was just a matter of getting used to the guys as my collection started with girls.
What is your background? Have you had any special schooling (art school, sculpture, painting, etc)?
I'm totally self taught.
When you were a child did you ever work on dolls or create with similar things?
I've always changed my dolls' original appearance. Mostly playing with the hair. I also loved to make paper dolls. I loved drawing a "doll" to represent my dream doll and loved designing a wardrobe for them. I actually had more fun with the creating part that actually playing with them. I also used to make "pipe cleaner dolls." I'd shape a simple almost stick figure like body with a loop for the head that I filled with a cotton ball and then painted on features. I'd used crepe paper or whatever scraps of fabric I could find to make clothes.
Do you have any other interests that might have helped you in your development of customizing ABJD (like customizing other dolls, action figures, etc)? Please tell us about them.
I think my background in ballet and theater has definitely influenced my aesthetic in my own dolls especially my love for elaborate costuming. I'm also interested in the history and culture of other countries and time periods. I've done a lot of research on historic costume.
Do you have any other interests? Collections?
I have a modest collection of glass art. For a while I was thinking of taking up glass art but after visiting a glass art studio decided the creation process was not for me—too much heat! Literally! I'm also an avid reader and really enjoy researching historic costume. And I love movies!
What factors do you consider before giving a doll its make-up so it will have the expression you want?
Well, I don't like to fight the sculpt too much. But there are ways to accentuate one thing or minimize another feature without going too far from the sculpt. And I always look for symmetry.
Are there any painting techniques that can make a face look more masculine or feminine?
I don't think so. It's more about the color palette selection.
Can you offer any helpful hints to the amateur face-up artists? Can you recommend a list of supplies including colors, paints & pastels etc?
Practice! I like to use Liquitex acrylic paints, use oil-free human powders (too lazy to crush up my own pastels though I think that's a great option), and my favorite glossing is Delta Ceramacoat. As for application supplies I use anything from 20/0 brushes, q-tips, eyeshadow applicators, etc. Whatever you feel comfortable with. I don't think it's important what products or tools you use. What's important is the outcome.
Do you have a favorite medium you like to work with when not creating for BJDs in your spare time?
Textiles. I love fabrics and trims!
How long have you been doing face-ups/customizing BJDs?
Since 2003.
What is your biggest inspiration for your face-ups and customizations?
Nature, beauty it any and all forms, and art.
Do you have any tips you'd like to share for people that want to learn how to do what you do or just want to improve? Something that's helped you a lot or something that you think is important to know when doing a successful customization/face-up?
A dear friend of mine once told me that it's not important what tools you use it just matters how your end results look. Also, I've learned you really need to practice a lot and be open and willing to try new techniques.
Closing Comments (anything you'd like to tell us)?
Art in one form or another has always been a part of my life. I was very lucky to have been raised around wonderful art books and have parents that took me to museums and encouraged artistic interests and projects. I've loved creative projects, drawing and dolls all of my life. So I'm very happy and thrilled to live in this wonderful time of so many amazing dolls that are truly little works of art sculpted by such talented individuals. I'm humbled and honored to have so many people entrust their precious dolls to my care.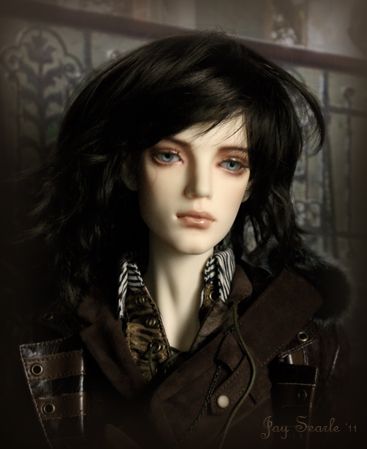 Thanks for the interview, Jay! We appreciate it.