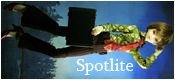 Your name: Jay
Your Legal Name: Jay Searle
Your Website: jayspetitesalon.com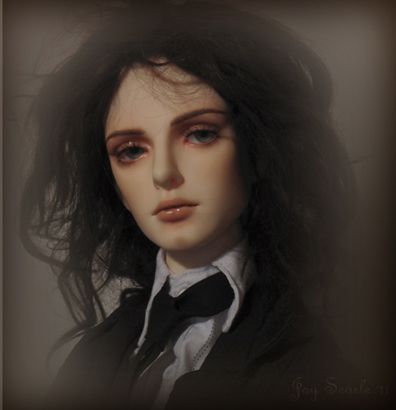 How did you get involved in Super Dollfies and customizing them?
A good friend of mine showed me pictures of her Unoss in 2002. Although I didn't fall in love with that particular doll, it did start me on an exploration of others. My first BJD, who I got in 2003, was a Volks SD10 Kira. I thought her faceup was very bland and didn't like her coloring. So bit, by bit I changed it. First I added some blush, then a little shadowing around the eyes, then painted over the lips, changed eyelashes, and finally I got brave and wiped the whole faceup off. That was a nerve wracking moment! None of the dolls I saw had the kind of depth and realism I wanted with their default faceups. Also, at that time BJD makers were really fond of very orange brows, eye shadow and bubble gum pink lips.
What do you do best?
Bring resin "kids" home to live with me! Pretty much the whole faceup and body blushing with a natural or "French" manicure are things I'm very comfortable with. But I'm constantly striving to improve. There is always something to be improved upon.
What Inspires You?
So many things—great art, historic costuming, fantasy, other talented faceup artists, nature, and romance.
What do you want people to think when they look at your Customizations?
I hope they get a peaceful feeling of beauty. I hope they think my faceups are beautiful! LOL! I hope they think of my faceups as fine art, like little paintings rather than commercial art.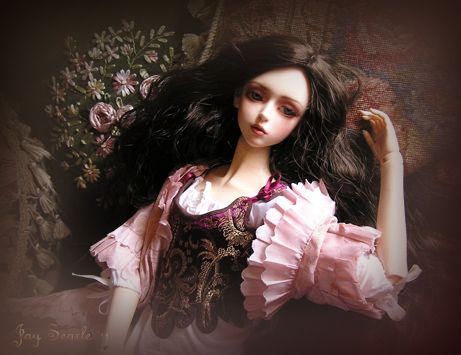 What do you hope to accomplish in the next 5 years?
I'd like to get even better with my craft and possibly learn to sew a little. I'm a terrible sewer, but I do love to design. I'd also love to sculpt a doll. Probably start with just heads.
What sorts of things do you enjoy the most about your designs/customizations?
I love bringing out the beauty in a sculpt. I suppose each of us has our own idea of perfection. So I like to look at a sculpt and try to bring out my idea of what's best in that particular sculpt. Usually I look for symmetry.
Other than yourself, who are your favorite doll customizers?
I especially like Sairin—the first faceup artist to inspire me! I also like Cheryl Dink's art especially her interpretation of males. And Cristy Stone's art—especially the detail she gets on small heads—is quite lovely as well. For the pure whimsy factor, I like the look of Val Zeitler's faceups. I also think Angel Toast and Meee do great faceups. I know there are others, too, who I've probably missed.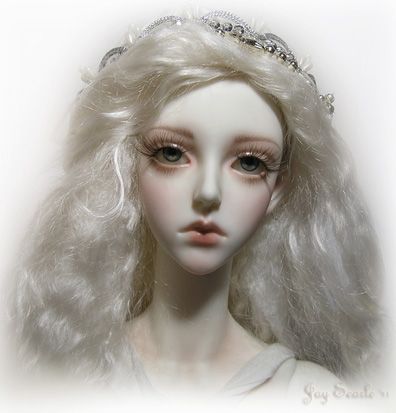 What's the Best thing about customizing your own dolls?
I don't have to worry about if I get the look just right or not as I can always change it. And sometimes my vision of the faceup for a certain doll changes. It's great to be able to easily change a faceup to match my evolving vision.
What's the most difficult thing about doing customizations (your mods, face-ups, tats, etc) and altering them?
It's really hard to just remove one thing, like lips for example. I'll never promise I can do that when someone asks as it's so easy to damage other parts of the faceups. Eyebrows are always something I strive to improve upon.
What type of dolls do you enjoy customizing (male/female/brands)?
I really love doing both males and females although early on I was intimidated by the male sculpts—how do I give them color without making them look like girls? But once I got that figured out I enjoy doing males as much as females. I don't enjoy doing really small heads like anything smaller than Unoa size. I do prefer doing less anime style heads, but have done them and will continue to do them as well as the more realistic looking sculpts. SOOM makes gorgeous faces. And Dollstown has a lot of soul in their sculpts. I also love Supia Roda, DOTs, Lishe, Unoas, Volks and can't forget my first male love—Hound.
What is your favorite style to create?
Well, I've heard my style referred to repeatedly as life-like and "soft and romantic" and I'm totally happy to go with that. Although I have done some special characters like Edward Scissorhands and Johnny Depp as The Mad Hatter. Those were really fun.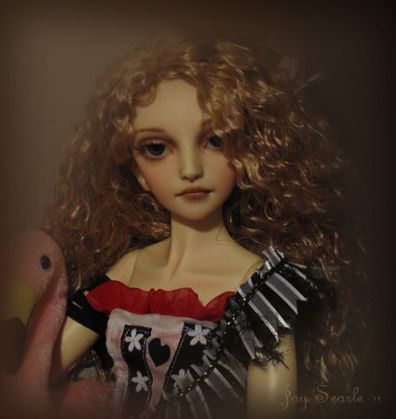 Who would you love to collaborate with?
Someone who would be interested in letting me sculpt the head and they sculpt the body or at least work out the mechanics. Also, I'd love to collaborate with someone to bring some of my clothing designs to fruition. I would design and select fabrics and trims, and the other person could do the sewing.
Why choose doll customizing as a form of Self Expression?
I have lots of forms of self expression, but doll customizing particularly lets me indulge in my love of costuming and the right hair and makeup to go with that. Plus, I just love bringing a beautiful sculpt to life! Also, I've loved dolls all my life.
How long does it take from start to finish on a typical doll to create and complete?
The actual faceup, not counting photography and getting ready for the photo shoot, takes me a couple of hours including applying eyelashes. I like to leave lots of time for layers to dry and let things cure. So I typically do a faceup in stages. Some faceups go faster and others need to be tweaked more. It's unpredictable. I mix colors for each faceup—nothing is "standardized" so to speak.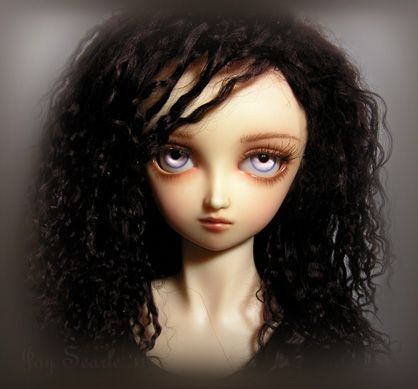 How do you like to work best with a custom order for a client? With total freedom to create your vision, or do you like some feedback/interchange with a client who might have an idea or theme they would like to see realized?
As much as I like creating my own vision, I always want to make sure that it will be something my client will love, too. It's not just enough that I love it. And I typically like a sense of color palette from a client—that is, will the head be just a blond, brunette, redhead or vary? Do they want a vivid palette with dark lips, or a lighter palette or something in between? Other than that, it's great to just be able to do what I like.
What have been your favorite projects you've done thus far?
Wow, that's a tough one. I have to admit, I've been really lucky to have a wondrous variety of dolls come my way. It's always fun to be able to do sets—like sisters, or a boy/girl couple together. And it's fun to do special faceups too such as a Johnny Depp head I did as The Mad Hatter, and another as Edward Scissorhands. Those were really fun projects and very different from the usual realism and soft look I do. As an artist, it's always fun to do something completely different once in a while.
What sets your doll customizations apart from all the others?
Honestly, I'm not sure. I know people tell me they can spot my faceups. I think it might be that they have a certain softness and old world feeling.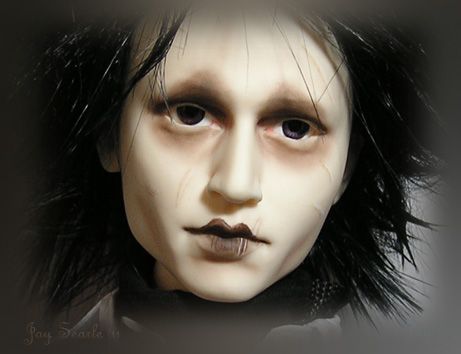 Interview continues soon!